U.S. President Donald Trump heralded what he calls a "new chapter of American greatness" during his first speech to a joint session of Congress.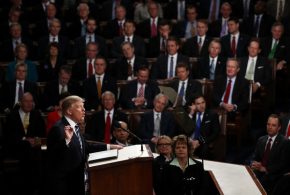 During a roughly hour-long address, Trump described his agenda including a call for bi-partisan cooperation on women's health, clean air and water, infrastructure and the military.
But he also called for action on which there are deep divisions, including the repeal and replacement of "Obamacare."
Trump heralded his administration's recent approval of TransCanada's Keystone XL and the multi-state Dakota Access pipeline projects.
The U.S. President also mentioned Canada's prime minister by name, in touting a women's entrepreneurship initiative.
"With the help of Prime Minister Justin Trudeau we have formed a council with our neighbours in Canada to help ensure that women entrepreneurs have access to the networks, markets and capital they need to start a business and live out their financial dreams," Trump explained.
The idea for the project came from Trudeau's chief of staff Katie Telford, who raised it with Ivanka Trump's husband Jared Kushner, who is also a White House aide.