A monumental painting by Georgia O'Keeffe – that can be viewed horizontally or vertically – sold for $12.9 million at a New York City auction.
"Lake George Reflection," created in 1921-1922, was offered at Christie's on Thursday.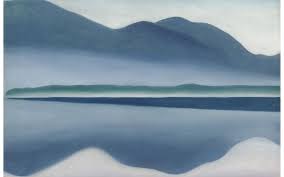 The painting measures 5-feet by 3-feet, and was inspired by O'Keeffe's visits to Alfred Stieglitz's family compound on Lake George in upstate New York. The artist married the celebrated photographer in 1924.
Horizontally, the work is a landscape of rolling hills reflected in a body of water. Vertically, it becomes abstract, more reminiscent of her iconic flower paintings.
O'Keeffe hung it vertically when it was first exhibited – in a New York gallery in 1923.
Apart from its sale at auction in the 1990s, the painting hadn't been seen publicly since that 1923 exhibition.