There are celebrations around the world this year – to mark the 400th anniversary of the death of William Shakespeare.
Christie's is hosting one of the higher profile events – an auction of rare items it calls "the Holy Grail of publishing."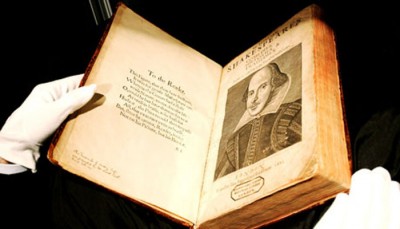 Four folios from the 1600's – containing most of the Bard's plays – will be displayed in New York, April 1st – and in London April 20th – before going to auction on May 25th in London.
The First Folio was published in 1623 – as a collection of 36 plays, 18 of which hadn't previously appeared in print – and would otherwise have been lost.
The publication also firmly established Shakespeare's status as a serious writer – who was worthy of a proper, leather bound book.
Later editions, published in 1632, 1664 and 1685, helped preserve his work – and the third also included another play: Pericles, Prince of Tyre.
The First Folio is valued at up to $1.7 million.