There are some familiar names behind the 12 titles that have made the long list for the 2016 RBC Taylor Prize for non-fiction.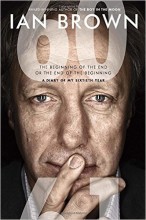 Toronto journalist Ian Brown, who won the $25,000 dollar Taylor prize in 2010 for his memoir "The Boy in the Moon", made the cut this time for "Sixty: The Beginning of the End or the End of the Beginning.
Also on the list is "Stalin's Daughter" by Toronto's Rosemary Sullivan.  It won the $60,000 Hilary Weston Writer's Trust Prize for Nonfiction in October.
Other titles on the long list include "Road Trip to Rwanda: A Journey Into the New Heart of Africa" by Calgary's Will Ferguson.  He won the 2012 Scotiabank Giller Prize for his novel "419."
The short list will be unveiled January 13th.  The winner will be announced March 7th.