The Globe Theatre in London has come up with a unique way to commemorate the 400th anniversary of the Bard's death next year.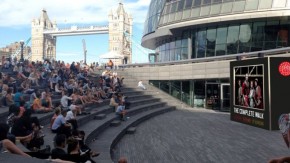 Short films of Shakespeare's 37 plays are to be shown on giant screens along the Thames River, all of them filmed in the locations where the plays are set.
Actors are being dispatched around the world to film Cleopatra in Egypt, Julius Caesar in the Roman Forum and Hamlet at Elsinore.
Each 10-minute film will be screened on a stretch called the Complete Walk, between Westminster and Tower Bridges on the weekend of April 23, 2016.
The mini-moves will be shot over the next six months with noted Shakespearean actors reciting speeches from the plays against the appropriate backdrop.