It's a sign of an aging society, but also that we are aging well.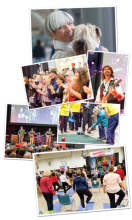 The 8th annual ZoomerShow took place this past weekend at Toronto's Enercare Centre on the Exhibition Grounds.
36,500 people attended the lifestyle expo for the 45-plus crowd; an increase of 13 percent over last year's attendance at the ZoomerShow and more than two and a half times the attendance from the first ZoomerShow in 2008.
The ZoomerShow attracts people interested in living a healthy and vital lifestyle into their older years.