Legendary Canadian singer Joni Mitchell is said to be recovering from a stroke and brain aneurysm earlier this year.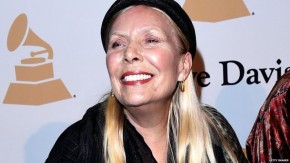 In a Facebook posting, her friend and fellow singer Judy Collins says Mitchell "is walking, talking, painting some, doing much rehab every day."
Mitchell has been undergoing treatment since she was found unconscious in her Los Angeles home in March.
In June, singer David Crosby, who dated Mitchell in 1967, said she was not speaking. But Mitchell's lawyer, Rebecca J Thyne, who visited Joni at her L.A. home contradicted that assessment saying, "It was clear that she was happy to be home and that she has made remarkable progress. She has physical therapy each day and is expected to make a full recover."
Mitchell's friend Leslie Morris has been acting as her temporary conservator.