26 year old Montreal pianist Charles Richard-Hamelin has made history as the first Canadian to win silver at the prestigious 17th International Chopin Piano Competition in Warsaw.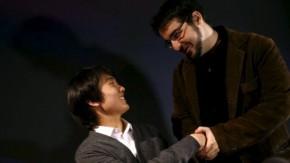 Richard-Hamlin (pictured congratulating the winner) placed second playing Chopin's Piano Concerto in F minor.  21 year old South Korean, Seong-Jin Cho won first prize.  Third went to Kate Liu of the United States.
The winner takes home almost $34,000 and will perform in some of the world's best-known concert hall.  Richard-Hamelin wins $28,000.
Another Canadian, 16 year old Tony Yang, who is studying at Julliard in New York, placed 5th and takes home a prize of $12,000