A Canadian, who was previously considered for a Nobel Peace Prize, is among three winners of this year's so-called "alternate Nobels", the Right Livelihood Awards.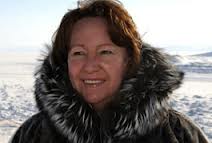 The Sweden-based organization cites Canadian Inuit leader Sheila Watt-Cloutier for her "lifelong work to protect the Inuit of the Arctic and defend their right to maintain their livelihood and culture which ware acutely threatened by climate change."
The northern Quebecer will share the equivalent of $475,000 with a Ugandan woman for her struggle for gay rights and an Italian surgeon for providing medical assistance to victims of war.
Watt-Clothier, who is 61, was a Nobel Peace Prize nominee in 2007.