That wild and crazy guy – Steve Martin – is a big fan of Lawren Harris.
And he admires the Group of Seven painter so much – that he's organized a show of his work.
–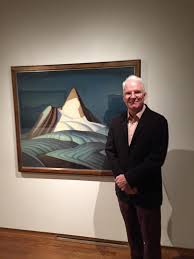 Martin is a serious art collector – who is also an actor, comedian, novelist and Grammy-winning banjo player.
The U.S. star worked with two curators – Andrew Hunter from the Art Gallery of Ontario – and Cynthia Burlingham from The Hammer Museum in Los Angeles to co-curate the show.
Martin calls Lawren Harris "Canada's Greatest Artist" and says : with a few exceptions, nobody in America knows who Harris is.
"The Idea of North" exhibition introduces Lawren Harris to Americans – and opens at The Hammer Museum in L.A. October 11th before moving to Boston – and then comes to the Art Gallery of Ontario in Toronto next year.