A vote yesterday in South Carolina's senate marked a resounding shift in that state.  Less than 3 weeks ago, a suggestion to remove the Confederate battle flag from the grounds of the capitol building was viewed as politically impossible.  But the killings at an historic black church in Charleston revived the debate when the man accused in the racially charged massacre was shown posing with the Confederate flag in pictures.
South Carolina's senators voted 37-3 yesterday to remove the flag.
"When I see a Confederate soldier, I don't get goosebumps and feel all warm and fuzzy, but I respect the fact that you do.  All I'm saying is, you can't force all of us to have the passion that some of you have about certain things," Senator Darrell Jackson, who is black, explained to the South Carolina Senate.
The vote came at the end of a day of debate in which several white senators said they had come to understand why their black colleagues felt the flag no longer represented the valour of Southern soldiers but the racism that led the South to separate from the United States more than 150 years ago.
The Senate has a remaining ratification vote today, and then debate shifts to the House of Representatives, where the result is a bit less predictable.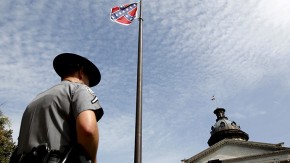 The historic measure could remove the banner, more than five decades after it was first flown above the South Carolina Statehouse to protest integration.