On the second last day as chief of the country's largest municipal police service, Bill Blair already knows where he'll be spending some of his retirement.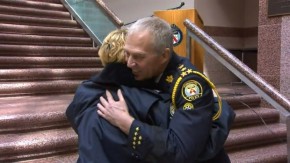 As he exchanged goodbyes with uniformed and civilian employees at headquarters, he talked about joining The Scarborough Hospital Foundation board of directors.
"I raised my family in Scarborough.  I was raised in Scarborough and The Scarborough Hospital was always there for us.  And so when they asked if I would help them I'm more than happy to do that.  I think it's an important institution and that's an important community.  It's my community and so that's one of the things I'm going to be doing in the future".
There's speculation Blair may enter politics.
His predecessor Julian Fantino is now associate minister of national defense.
Chief-designate Mark Saunders takes over from Blair Sunday.