A group claiming to be a Yemeni branch of the Islamic State group has posted a statement online claiming responsibility for a string of suicide bombings in Sanaa, Yemen.
The blasts at two mosques in the capital killed 137 and injured 345 during Friday prayers.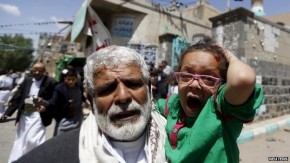 The statement from the group says five suicide bombers carried out what it calls a "blessed operation" against the "dens of the Shiites."
The mosques are controlled by Shiite rebels known as Houthis, who swept down from their northern strongholds and seized Sanaa last September.
They're enemies of Yemen's powerful al-Qaida branch, which Washington views as the most dangerous and active al-Qaida affilitate.