John Tory says he's "furious that this happens over and over again."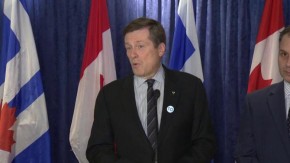 That's the Toronto mayor's response to word that the Spadina subway extension's way over budget, reportedly hundreds of millions of dollars, and behind schedule.
He blames the lack of leadership at city hall.
"This is not because people want to go out and waste money or finish projects way behind schedule.  I believe it is because there just hasn't been the leadership in this building, starting at the top, where people are told that it matters that you meet your budget and it matters that you meet your timetable on taxpayer financed projects just like it does in real life for everybody else."
Tory adds he'll work with TTC officials to find a way to "stop the bleeding" and examine every plausible option to get the trains running as soon as possible for the least possible cost.
A spokesperson for the TTC says the transit commission will present a plan on the Spadina extension March 26th.