Beauty isn't the only thing in the eye of the beholder.
So's the colour of this dress.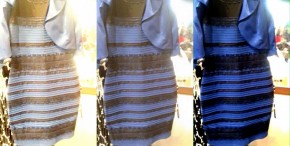 People around the world have been asking the question, "what colour is it?" and debating the answer .
Optometry experts call it the photo a one-in-a-million shot that captures how our brains perceive colour and contrast in different ways.
Those who subconsciously seek detail in the dress' many horizontal black lines convert them to a golden hue, while the blue disappears into a blown-out white.
Experts say the photo's exceptionally warm yellow backlighting triggers this alternative perception.
The English retailer, Roman Originals, reports one million hits on its sales since since the photo appeared last night.
Oh, the dress designer says it's black and blue.