The Second World War vet, who survived a home invasion in Ottawa last December, has died.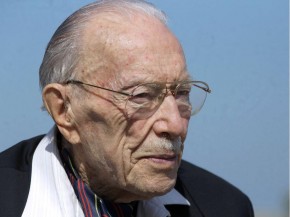 Ernest Cote died of a heart attack yesterday surrounded by family.
He'll be remembered as one of Canada's better known D-Day vets.
As a lieutenant-colonel, Cote was the logistics officer with the 3rd Canadian Division, which landed on Juno Beach, June 6, 1944 and was mentioned in dispatches for his role in the invasion that led to the downfall of Nazi Germany.
Following the war, he had a distinguished career at the External Affairs department and was a fixture at Remembrance Day ceremonies and at the Canadian war museum.
The father of four also took part in the initial meetings for the UN General Assembly in London, Paris and New York and helped draft the charter of the World Health Organization.