In the end, it was a Canadian beagle who charmed the judges and took  Best In Show at America's most prominent dog competition at the Westminster Kennel Club in New York.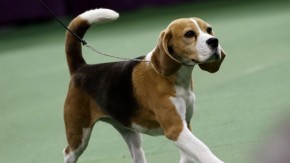 A packed crowd at Madison Square Garden seemed to loudly gasp when judge David Merriam picked Miss P in a dog show world shocker. He is a retired California trial-courts judge and has spent more than 50 years with dogs, but this was the first time he'd judged a best in show.
Miss P is from Enderby, British Columbia.  Her handler William Alexander says she's a princess and has never lets him down.  The celebrity beagle has a full day today – appearances on morning TV shows, a meeting with Donald Trump, lunch at Sardi's in Manhattan and a walk on part in the Broadway hit musical Kinky Boots.