Former governor general Michaelle Jean's been chosen secretary-general of la Francophonie.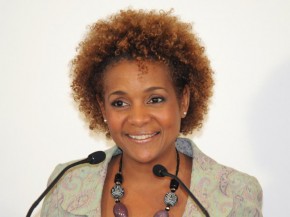 She was chosen by consensus at the summit of French-speaking nations in Senegal, becoming the first Canadian and first woman to hold the position.
Following the announcement, the 57-year old Jean said, " I am very excited to work with all these women and all these men who make and live the Francophonie daily."
She also emphasizes the important role of women and youth and stressed the need to promote the use of the French language and strengthen economic action in the Francophonie world.
Prime Minister Stephen Harper, who attended the summit with Quebec Premier Philippe Couillard and New Brunswick Premier Brian Gallant, says Jean was the ideal one for the job.
In a statement, the prime minister said, "She will embody the renewal and modernity that la Francophonie of the 21st century needs and will listen to heads of state and government and their citizens.
Harper's wife tweeted, "Congratulations to my friend."
The group has 57 members or associate members, while another 20 jurisdictions have observer status.
Jean, governor general between 2005 and 2010, was born in Haiti and moved to Quebec in the late 60s.
She's recently worked in Haiti as a special envoy for UNESCO.