New technology is helping to improve the lives of people live with Parkinson's Disease.
Google has thrown its money, brain power and technology behind a new product called the Liftware spoon.
It allows people with essential tremors and Parkinson's Disease to eat without spilling.
The technology senses how a hand is shaking and makes instant adjustments to stay balanced, reducing the shaking of a spoon by an average of 76 per cent.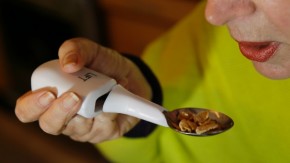 "We want to help people in their daily lives today and hopefully increase understanding of disease in the long run," said Google spokesperson Katelin Jabbari.
"It's totally novel," said UC San Francisco Medical Center neurologist Dr. Jill Ostrem who specializes in movement disorders such as Parkinson's disease and essential tremours.
The spoons hit the market at $295 apiece.