Canada's longest-serving mayor presided over her final city council meeting today, lowering the curtain on a 12-term, 36-year run as Mississauga's mayor.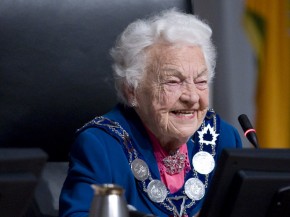 During a break, Hazel McCallion said, "I think I'm certainly going to miss it.  Over 36 years, I can't remember any council meeting turning into a disaster.  I think the councillors over the years have been very respectful of one another."
She may have taken a jab at her Toronto counterpart when she added, "We don't have the shows that exist at some councils."
Asked is she's endorsing anyone in the October 27th election, McCallion would only say she hoped voters do their homework.
Proud of many things done under her watch, she says "We've built a pretty good city."
While she's not running for office, she's far from putting up the Gone Fishin' sign.
McCallion says she's already received a number of offers to sit on various boards and committees, and that she'll continue being active in strengthening local government.
Her final official day as mayor is November 30.