The Wynne government's looking for a company in the private sector to take over its lottery business — running it, not owning it.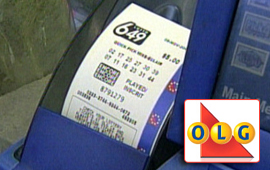 Ontario Lottery and Gaming is asking companies to bid on its $1.3-billion-a-year business to expand sales beyond convenience and grocery stores.
Some insiders say OLG has not maximized revenues it can make because tickets are mostly sold to older customers at corner stores, kiosks and grocery stores instead of online, via smartphones or at big box retailers to more youthful consumers.
OLG turns over about $2-billion a year to Queen's Park and is its biggest single source of non-tax revenue.
A request for proposals have been issued for a provider to run "specific day-to-day operations" of the lottery business, but the province will retain ownership.
The province will not release the names of any pre-qualified bidders until a new provider is announced a year from now.
Both Bell and Rogers are reportedly expected to make bids.