The Williamstown Theatre Festival in Massachussetts is the latest venue for a new musical by Broadway veterans John Kander and Fred Ebb.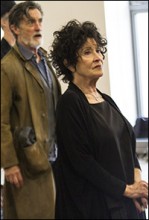 The Visit is the latest production by the team that created the music for such musicals as Cabaret and Chicago. It stars Broadway legend Chita Rivera as a wealthy woman who offers her hometown money to rebuild if they kill the man who jilted her.
The script is by award-winning playwright Terence McNally.
The 81-year-old Rivera has been involved in the show since it debuted at the Goodman Theatre in Chicago in 2001. It has had a number of regional productions since, but it has suffered some setbacks in its development.
Producers are still hoping for a Broadway run.