A forensic audit, that alleges Brampton Mayor Susan Fennell and her staff broke spending rules 265 times, is being given to police.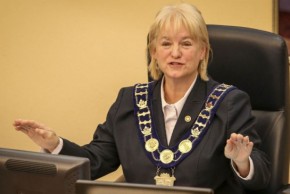 Following a heated debate this afternoon, city council voted in favour of a motion by Councillor Elaine Moore to forward the findings to the authorities outside Peel since Fennell sits on the Peel Police Services Board.
Some councillors cheered and others in the public gallery applauded the vote.
Fennell, who's seeking re-election, says she wants the police review of the audit to happen before the October 27th vote.
The audit did clear the mayor of using city staff for organizing private fundraisers.