It was another evening of wild weather in the Greater Toronto Area as thunder storms rolled through the region.  The TTC is affected by the wet weather.  There is no subway service this morning between St. George and Lawrence West stations because of flooding at St. Clair West station.  Shuttle buses are operating.
Worst hit was Burlington, where sections of the QEW and the 407 were shut down because of flooding.  All lanes have since reopened.  The Weather Network says the area received about 125 millimetres of rain. That's nearly two months worth in one day.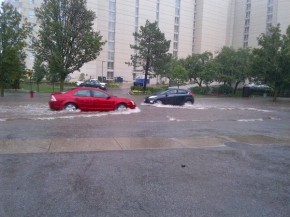 (Thanks to @ICLRCanada on Twitter for pic)
Burlington Mayor Rick Goldring says hundreds of residents have flooded basements, including his own home.  He says a special meeting will be held to deal with the situation.
In the east end of Toronto, four members of a family were hit by lightning during a thunderstorm.  They are expected to survive. Then after an EMS crew arrived, spokesperson Peter Rotolo told CP24, the ambulance was affected by a second lightning strike.  "You don't expect it, but certainly with the rain that was coming down and lightning and thunder around, so they did their best to protect their patients."
We could see more thunderstorms this afternoon.