The answer to whether heart disease is a purely modern occurrence is no longer undiscovered.  Researchers at Mount Sinai Medical Center in New York and Long Beach Memorial Hospital in California used C-T scans to examine mummies from various parts of the world to see if they suffered heart ailments similar to modern ones.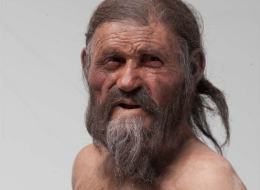 (Otzi The Iceman, who lived 5300  years ago)
It turns out, a well-preserved mummy discovered in the Alps, may have had a genetic predisposition to heart disease.  Study co-author Albert Zink said, "we were very surprised that he had a very strong disposition for cardiovascular disease." Zink and his colleagues found that the man who lived 5300 years ago had several gene variants associated with cardiovascular disease, including one on the ninth chromosome that is strongly tied to heart troubles.  "He didn't smoke; he was very active; he walked a lot; he was not obese," Zink said.  "But nevertheless, he already developed some atherosclerosis." He said the findings suggest that genetics play a stronger role in heart disease than previously thought.
The research is report in the journal Global Heart.