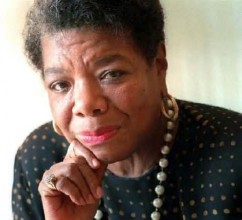 The great Maya Angelou has died.  Her agent Helen Brann has confirmed that the noted author and poet died near her home in Winston-Salem, North Carolina early this morning.  Brann says Maya "had been very frail and had heart problems but she was going strong and finishing a new book."  She says she spoke to her yesterday and "she was fine as she always was.  Her spirit was indomitable."  Maya Angelou was an inspiration to many, including Oprah Winfrey, who has spoken often about her as a mentor.
Angelou gained acclaim for her first book, her autobiography I know why the Caged Bird Sings making her one of the first African American women to write a bestseller.  In 1998, she directed the film Down in the Delta about a drug wrecked woman who returns to the home of her ancestors in the Mississippi Delta.  In a recent recording which aired on Oprah Winfrey's OWN, Maya says "I am grateful to have been loved and to be loved now and to be able to love because that liberates.  Love liberates.  It doesn't just hold.  That's ego.  Love liberates."
Maya Angelou sent out her final social media message on Twitter on Friday.  She said, "Listen to yourself and in that quietude you might hear the voice of God."
Maya Angelou was 86.