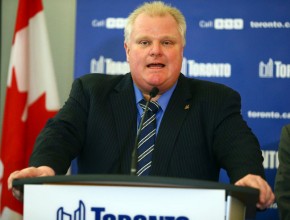 There could be a showdown today at Toronto City Hall between embattled mayor Rob Ford and the city's police chief.  Bill Blair is expected to outline the 2014 police budget at today's meeting of the budget committee.  Mayor Ford is refusing to heed calls to not take part in the Toronto Police budget debate this year due to his ongoing crack cocaine scandal and the subsequent investigation.  Councillors are also concerned about Ford's comments during his much talked about interview with Conrad Black on The Zoomer on our sister station, Vision TV, on Monday night. During the conversation, Ford accused Chief Blair of having an agenda against him because of the mayor's request to cut the police budget by 10 percent.  "I definitely think this is political.  I think they used Lisi as a prop to get to me and that's pretty well it," Ford told Black.  Ford's friend Alexander Lisi is facing charges of trafficking in marijuana and extortion.
Ford says despite the controversy over his remarks in the interview, he will be voting on the police budget.  "If you watched Conrad Black's interview.  And actually, there was (sic) two.  There was one at 9 o'clock and then there was a full hour one from 12 to 1 (am).  I hope you saw both of them, and I stand by every word I said with Mr. Black in my interview."
Councillor Michael Thompson is the vice chair of the police services board and says Ford should say sorry.  "It's wrong.  I think it's inappropriate.  In fact, I think the mayor should apologize to the chief of police."
In response to Thompson's comments, the mayor's brother, Councillor Doug Ford accused Thompson of playing politics and says it's Chief Blair who has a conflict.