Forecasters at the Canadian Hurricane Centre say they are monitoring Hurricane Joaquin, which may move into Canadian waters early next week.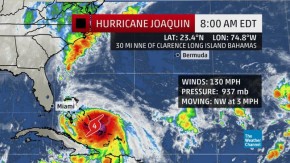 The storm is battering the central Bahamas with torrential rains that flooded homes and there is a warning that the "extremely dangerous" Category 4 storm could grow even stronger as it roars along a path that could take it near the U.S. east coast.
Canadian forecasters say there's a high degree of uncertainty around the storm's track.
There are two particular scenarios, one that would have it moving into the Carolinas and the other showing it far offshore from Atlantic Canada.
If it does move into the Carolinas, forecasters say that could lead to rainfall in southern Ontario, Quebec and Atlantic Canada.