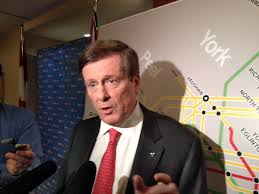 Toronto mayor John Tory is leaving town.
He'll be heading to Ottawa today – to pitch his transit idea for Smarttrack.
Tory will be in the nation's capital meeting with both NDP leader Thomas Mulcair and Liberal leader Justin Trudeau.
Hot on the heels of being sworn-in as mayor, Tory first met with Prime Minister Stephen Harper – out at Pearson International Airport – in early December.
Toronto's mayor has promised to bring in both the federal and provincial governments – to help cover the $8 billion which is estimated to get Smarttrack up and running in seven years.
Tory is also scheduled to meet with federal Transport Minister Lisa Raitt – in addition to several Toronto-area MP's from a across party lines.