Toronto's first Open Streets is being hailed a huge success by organizers, although most of the people who came out did so when it was almost over.  It ran from 8 in the morning until noon yesterday.  Bloor Street was closed to traffic between Parliament and Spadina and Yonge Street was shut down from between Bloor and Queen.  By about 10:30, people were turning out in droves to wander the streets while drivers were forced to find alternative routes.  Toronto mayoral frontrunner John Tory says it was good to try out the idea to see if it would catch on.  "I'm very concerned always about decisions we make to close traffic down, because people have to get around.  But I think it's good to try something like this and see how many people come out and numbers are growing by the minute," Tory said as the event was going on.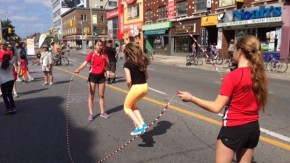 (Yonge Street on Sunday morning during Open Streets Toronto)
But Toronto mayor Rob Ford says it doesn't make sense to close down streets  when we have so many parks in the city.  "If you want to walk, you want to do yoga, that's what parks are for.  If you're going to close down streets, it should be for a good cause.  You just don't close down streets for no reason," he offered.
Another Open Streets Toronto is scheduled to take place on Sunday August 31st.  The program started in Bogota 20 years ago and has spread to more than 100 cities around the world.