A giant of folk music and political activism has died.
Pete Seeger was one of the first protest singers who paved the way for generations that followed. He helped make We Shall Overcome the anthem of the civil rights movement when he published it in 1948. As a member of The Weavers, he had hits such as Where Have All the Flowers Gone?' and If I Had a Hammer.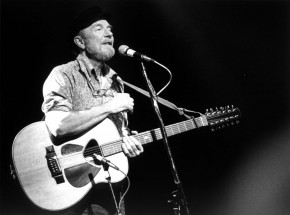 But his left-wing politics kept Seeger out of the mainstream media for the better part of a decade, especially during the McCarthy years.
Seeger was once asked if he wanted to be remembered for his accomplishments. He said that people have too much to remember. He hoped perhaps people in decades to come might read his books and realize that the world was a troubled place in the 20th Century and "there were musicians who played a part helping to get this world together."
Seeger said in 1996 he wanted to put songs on people's lips rather than just in their ears. He has been a recent contributer at Moses Znaimer's IdeaCity.
Seeger's family says he died at a New York hospital last night. Pete Seeger was 94.