Since I began this blog a few months ago, I have discussed major issues like Site 41, a dumb landfill idea; saving Shakespeare, a great little hamlet threatened by a dumb highway idea; financial planning and fraud. I have been remiss, however, by not telling you a little more about myself.
For more than 40 years, I have been advocating for Canadians with an emphasis on Canadian consumers and, of course, on Canadian Zoomers. I've written a book and thousands of columns over the years decrying fraud and incompetence. I have a web site, Goldhawk.com, that you can visit to get all sorts of information and up to date news about the Canadian marketplace and my efforts against fraud and incompetence in the marketplace.
I'm on Zoomer Radio at AM740 radio every weekday from 11 a.m. to 1 p.m. Toronto time, and, as you can see, I'm always here at AM740.ca on my blog, that I update frequently, and in this site's daily Schedule.
You might see me on television because I have a Goldhawk Live weekday (evening actually) Rogers TV show in Ontario and I host a national Goldhawk Live public affairs show on CPAC in Ottawa on Sundays.
My hardworking staff includes Mary Feely who produces my AM740 show,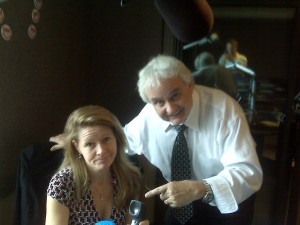 Goldhawk Fights Back. She puts up with me, books guests, keeps me on track, talks about the issues and she diligently organizes troops at Dump Site 41 and Shakespeare rallies.
The idea driving a lot of what I do is that Canadians deserve a Safe Market. Most of us work hard for our money and our families and our communities. We certainly do not deserve to be ripped off by frauds and other deceptive practices or utter incompetence. We should not have to put up with laziness, indifference and bureaucratic nonsense when we make purchases from the private sector and deal with innumerable transactions mandated by our governments.
I've seen a lot in my long career fighting back and I still experience things daily that are sometimes sad, sometimes tragic, sometimes appalling and, sometimes inspirational as other Canadians fight back and get involved on the side of Good. From all the things I see and hear daily, I know most Canadians are great people with integrity and hope. I hate to see that hope dashed and that integrity challenged.
The program, Goldhawk Fights Back – heard everywhere via the Listen Live button on this web site AM740.ca – my web site at Goldhawk.com with its services directory, and my televised Goldhawk Fights Back show, are resources committed to creating, defining and maintaining a safer marketplace for Canadians. I hope you take advantage of all these sources of solid information, advice and critiques so that no one takes advantage of you.
Visit Goldhawk.com to see the way Goldhawk is building a safer marketplace for Canada's consumers with up-to-date news and information about shopping smartly and avoiding fraud.