Site 41, you may recall, was the target of a citizen's protest over the past several years. The site, in Ontario's Tiny Township on Georgian Bay, was to become a giant landfill for the waste of Simcoe County. Thousands of citizens forced Simcoe Council to place a moratorium on further development of this stupid project which threatened some of the purest water in the world in the underlying Alliston Aquifer.
This story of democracy in action, however, has not ended because the site with its excavated hole sits there like an earth-tethered black cloud. Because of an existing approval by government, it could still be used, by a private developer or a local council, as a landfill, waste transfer station site or for some other noxious purpose.
There is a private member's bill before the Legislature, sponsored by MPP Garfield Dunlop, trying to halt the use of the site for waste disposal. This bill should not be necessary. It would take only a stroke of a pen by Minister of the Environment John Gerretsen to withdraw the MOE's Certificate of Approval for the site to stop this travesty for good.
You have to wonder, when we elect people to positions of power, if we take them out of the real world and elevate them to some mountaintop where they can talk to no one but peers and listen to nothing but the sighs of gentle breezes.
Very recently, Minister Gerretsen talked about and made promises about pure water. The promises and words came at a meeting of fellow environment ministers from across Canada that Minister Gerretsen hosted.  He didn't say a word or make a promise about Site 41, the most apparent, current threat to the public's water supply in his province.
Instead, on October 29, in his Kingston riding, the minister joined in approving, in principle – which may mean never – two major initiatives that are supposed to reduce the amount of packaging waste generated by industry. Minister Gerretsen and the others also adopted a Canada-Wide vision for water.
This national vision outlines how the Canadian Council of Ministers of the Environment (CCME) "will help ensure that Canadians have access to clean, safe and sufficient water to meet their needs in ways that also maintain the integrity of ecosystems." What sentence could better sum up the goal the rest of us have for the Alliston Aquifer?
As well, the Ministers reaffirmed their commitment to address things like nutrient loading in Canadian waters, the valuation of water-based natural capital, and developing a better understanding of groundwater resources and management.
The Ministers will be off in December for the COP 15 UN Climate Change Conference in Copenhagen. They will likely mention water there too.
So, here we have a Minister who talks in grand terms in various places about Canadians having access to clean, safe and sufficient water and about the integrity of ecosystems.
Site 41 has a direct bearing on all these things. The aquifer under which this potential landfill sits must be protected from nutrient loading. Its value to Simcoe County and well beyond as a source of pure water is huge, as great a value as any aquifer in the province. It provides hundreds of thousands of families with their drinking and bathing water. And if you truly want a better understanding of groundwater resources and management there is no better place to start than understanding how the glacial water of this aquifer survived to deliver the world's purest water to Ontarians today.
It seems, so far, that Mr. Gerretsen and his ministry doesn't get the connection between his promises and speeches and the fight over Site 41. If he got it, he would retract his ministry's approval of Site 41 without MPP Dunlop having to pursue his private member's bill, or thousands of opponents to the site still having to live in anxiety. Remember, there are still people who have to go to court for their defense of clean water while Minister Gerretsen preaches on a higher level about his commitment but does nothing at the ground level to demonstrate honest commitment.
You have to conclude, don't you, that our representatives, once elected, move into the stratosphere with only the most grandiose issues to concern them, free to ignore minor, immediate inconveniences like Site 41 and their sidelined constituents?
Isn't it time Minister Gerretsen came back to earth and did something with and for all we mere mortals worried about Site 41, instead of just pontificating about clean water?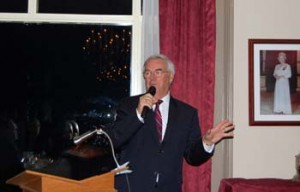 Make your views known:
Hon John Gerretsen contact Information
[email protected]
Ministry of the Environment
11th Floor, Ferguson Block
77 Wellesley Street West
Toronto, Ontario M7A 2T5
Tel 416-314-6790
Fax 416-314-6748
Constituency:
Suite 2, 303 Bagot Street, The LaSalle Mews, Kingston, Ontario K7K 5W7
Tel 613-547-2385
Fax 613-547-5001
[email protected]

Visit Goldhawk.com to see the way Goldhawk is building a safer marketplace for Canada's consumers with up-to-date news and information about shopping smartly and avoiding fraud.