IT'S UP! Our video with a couple of verses of Rev. Glenn Kukkola's song "We Are Still Here" is now up on YouTube. Glenn's song is great and sends a strong message to the Ministry of Transportation. We hope someone over there is listening – like Minister Jim Bradley.
[youtube]m22sKB2vHVo[/youtube]
I went to the Save Shakespeare Rally on October 17 and met people who are the salt of this earth. This is small town living at its best, in a tiny roadside community that has the kind of pride we can't lose. Listen, first, to this interview with Rev. Glenn Kukkola and click on the bar below to hear me talk with a resident of Shakespeare during the first Rally to save the little hamlet of Shakespeare, Ontario, from a proposed road widening that would destroy this village. Then look at photos of the first Save Shakespeare Rally. And please, don't go without clicking on the Youtube link above or listen to audio of Reverend Glenn Kukkola's new and inspiring song "We are still here" at the end of my blog. (words included). Its message can't be denied.
Shakespeare resident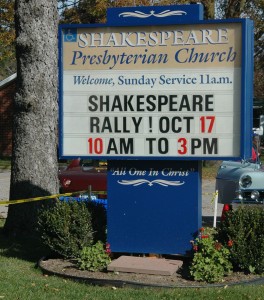 The first Rally to Save Shakespeare took place Saturday, October 17, in the centre of the village. And it was a success as these photographs show.
In the photos, you see:
Shakespeare residents and supporters gathered to hear messages and watch some entertainment including Reverend Glenn Kukkola's new song about the plan to widen Highway 7 & 8. He's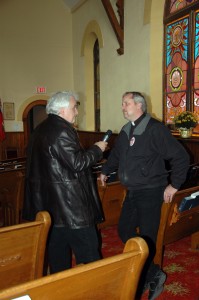 aggressively against the plan (and wrote and performed a song saying so) because it would bring the highway to within inches of the front door of his Shakespeare Presbyterian Church right at the only traffic light in town. I talked with Rev. Glenn inside his wonderful old church.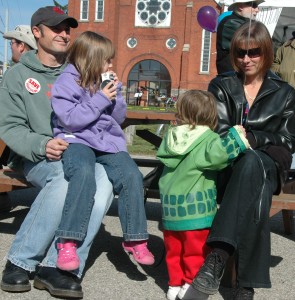 A few in the crowd at the rally. People came from all round, including Toronto, Caledon, and from the area of Site 41 – the dumpsite that was the target of an earlier campaign we fought against another dumb decision by government.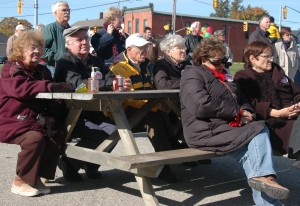 The message was serious but the rally also had entertaining moments including music from a local band, an Elvis impersonator in great form, and the song from Reverend Glenn Kukkola – not that the Ministry of Transportation will like it.
The March along the main street of Shakespeare and across the current two-lane highway was as scary as anything we'll see on Hallowe'en. Imagine kids having to cross a four or five lane highway to get from their homes to their school. Crossing the current two-laner is bad enough.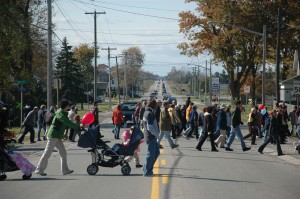 You don't have to imagine it, because we have photos of the kids of Shakespeare and what would face them if the plan for a highway widening was ever implemented.
This local family created signs that left no doubt about the message of everyone at the rally. NO four and five lane highway that will wipe this little community off the face of the map. Wh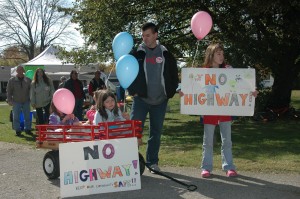 y do we have to get to Stratford and back less than two minutes quicker than we do now? And, if we're in that big a rush, why not put a second two laner along the present Line 33 just a little south of here? Beats me!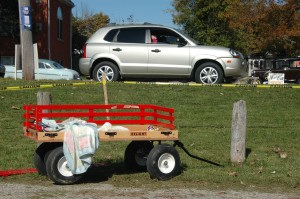 Is this the end of the story?
Not if we have anything to say about it. And, we do.
I joined Jeff Workman, head of the Save Shakespeare committee, on stage for the honor of
delivering  some choice words for the no-show local politicians who have better things to do on a Saturday than meet and talk with the people who voted them into – and can vote them out of – office.
A message for the MTO and local councillors: we have lots of photos left over to bring you over the months ahead when we hold more rallies and search high and low for the local politicians who are infamous for their absence and lack of voice over a plan which would mean destruction of this 177-year-old gem of a small community in Ontario. Stay tuned and join our Save Shakespeare campaign.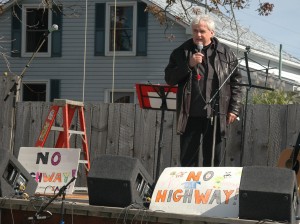 Oh, yeah, we even have a mascot who is asking for your help in Saving Shakespeare.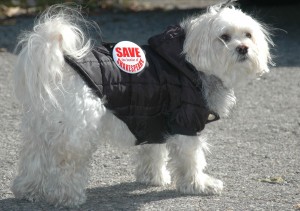 "We Are Still Here" by Rev. Glenn Kukkola, Shakespeare Presbyterian Church.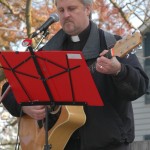 I got a notice the other day,
A highway expansion was coming our way,
right through our town.
I stood in shock and gripped with fear,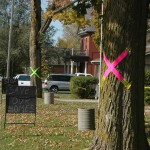 I thought of everything we held dear,
Ploughed under by trucks and gear,
This is our town.
The notice came from the MTO,
Looks like these buildings have gotta go,
The soul of our town.
Look at these trees they're in the way,
Look at these homes they can't stay,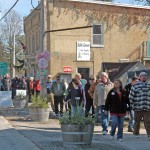 All the history we tried to save,
That makes up our town.
(chorus)
The people who cross the street each day,
The friendly folks who stop to stay,
The children walking on their way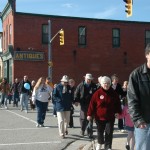 To school.
The life we built from all our toil,
That highway has come to spoil,
And they don't know the most important thing:
You can take our trees and take our walks,
You can tear down walls cause they can't talk,
But you can't, take what lives in here.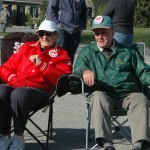 You can cut a swath right through our soul
And make wider the 7/8 road,
But you can't, bury our pride.
I woke up from sleeping the other night,
I got a vision of Shakespeare's plight,
Not single thing in sight,
That was our town.
The church still stands and rings it's bell,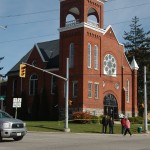 But it looks like a scene from hell,
Children's blood split when they fell,
Crossing our town.
(chorus)
Look at those buildings they tell the rest,
Of generations who stood the test,
Who gave their life and gave their best,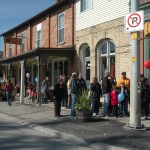 To build us a town,
It's more than bricks and the trees we sow,
It's the way of life that we love so,
Gone for progress, and the MTO,
This is our town!
(chorus)
Visit Goldhawk.com to see the way Goldhawk is building a safer marketplace for Canada's consumers with up-to-date news and information about shopping smartly and avoiding fraud.