A Canadian man has won a medal at the Rio Olympics for the first time. Markham's own Andre De Grasse has a bronze after placing third in the final of the 100-metre sprint, giving Canada its first medal in this marquee event since Donovan Bailey won gold in 1996.
De Grasse finished with a personal best time of 9.91 seconds.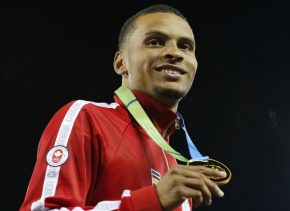 "It was an amazing race," De Grasse explained, "I'm feeling pretty good right now, I can't complain. To be able to race against Usain and Gatlin, being a part of the same race as them and being a part of history in Rio, it was a great feeling."
The first time Andre De Grasse raced the 100-metre dash was in grade 11. He had to borrow spikes and he didn't know how to get down in the blocks, so he took a standing start. Even then, he finished in less than 11 seconds.
Jamaican superstar Usain Bolt won gold for the third straight Olympic Games in 9.81 seconds. American Justin Gatlin took silver.