One person is reported dead by fire officials – and police say there have been "multiple injuries" – after a house explosion this afternoon in east Mississauga – in the Dixie-Rathburn area just north of Burnhamthorpe.
It happened on Hickory Drive late this afternoon.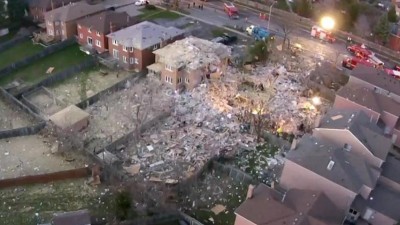 Mississauga Mayor Bonnie Crombie says one house was destroyed – and six others received moderate to heavy damage – while another 18 were damaged.
Pictures of the scene show heavy damage to nearby homes – and debris spread over a wide area.
Police say the cause of the explosion isn't known – and they are suggesting that residents whose homes have been damaged – go to the Burnhamthorpe Community Centre.