Zoomer superstar Helen Mirren is tackling a new role and this time there are no lights, costumes or makeup; just a microphone.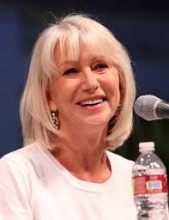 The award-winning British actress is narrating the recently rediscovered Beatrix Potter story "The Tale of Kitty-In-Boots."  The hardcover and audio editions are scheduled for release September 6th.
The Beatrix Potter story is Mirren's first project for the booming audiobook market.
The 70-year old's many career highlights include her Oscar-winning performance in "The Queen" and her Emmy-winning role in "Prime Suspect."