Toronto's new so-called "racoon proof" green bins may not be entirely critter-proof.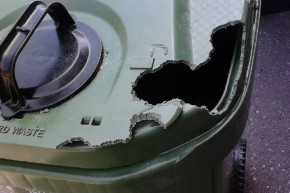 Pictures taken by a resident at Pharmacy and St. Clair and sent to a number of media outlets show one of the city's new bins with what appear to be holes and scratch marks along the top of the receptacle.
The resident, who did not want to be named, says the damage was done over the period of a few days, and she says she saw a squirrel emerge from the container.
The bins were approved by the Public Works and Infrastructure Committee last year, and are twice the size of those currently in use. The new bins began to roll out in Scarborough last month. They will be delivered in Etobicoke in the Fall, with North York to follow in January of 2017.
Mayor John Tory tweeted, "this is apparently rats or squirrels, not raccoons. Not sure that makes me feel better." Later he tweeted, "Rats, squirrels and racoons…working together? #OneToronto"
Word from the city is that the matter is being checked out.