American presidential front-runners Donald Trump and Hillary Clinton have scored solid wins in New York's primary.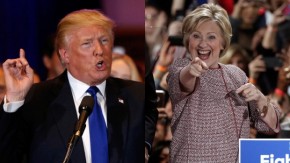 Clinton told supporters she considers her victory in her adopted home state "personal," and the former New York senator said she's in the homestretch of securing the Democratic nomination over rival Bernie Sanders.
"Because of you, this campaign is the only one Democrat or Republican to win more than 10-million votes," Clinton declared.
She's also appealing to Sanders' supporters for solidarity.
"To all the people who supported Senator Sanders, I believe that there is much more that unites us than divides us," Clinton said in a bid to claim the nomination.
Of the 247 delegates at stake in New York, Clinton picked up at least 135 to Sanders' 104.
Donald Trump has racked up enough delegates to make it mathematically impossible for Ted Cruz to claim the Republican nomination before the summer convention.
"New York state has problems like virtually every other state in the union. Our jobs are being sucked out of our states. They're being taken out of our country and we're not going to let it happen anymore. We're going to stop it," Trump told his supporters at the Trump Tower in Manhattan.
Trump won at least 89 of the 95 delegates at stake, while John Kasich will get at least three and Cruz might get none.