The Arch of Triumph in Palmyra, a 2,000-year-old antiquity destroyed by the Islamic State in Syria has been recreated in London's Trafalgar Square.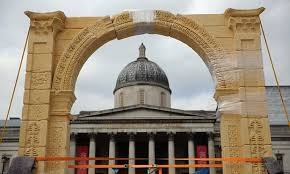 The original arch formed part of one of the world's most extensive ancient archaeological sites.
The six-metre Egyptian marble replica, about two-thirds the size of the original, was created by the Institute for Digital Archaeology from photographs of the original site using 3-D imaging technology.
London Mayor Boris Johnson unveiled the model today.  It will stay in London for three days before traveling to cities including New York and Dubai.
Islamic State group militants overran Palmyra in May 2015, demolishing Roman-era monuments including the archway and two large temples dating back more than 1,800 years.  Syrian government forces retook the city last month.