Toronto executive committee is expected to endorse the Bloor Street Bike Lane Pilot Project when it comes up for consideration today.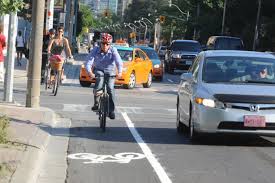 Under the proposal, the bike lane would extend along Bloor Street from Shaw to Avenue Road. Bloor Street is seen as an ideal east-west cycling route because it's relatively flat and and popular with cyclists traveling in those directions.
Toronto Councillors Joe Cressy and Mike Layton are the main cheerleaders.  Their recommendations include a cycle track design, keeping parking on one side of the street and one traffic lane in each direction.
If the pilot is approved, Toronto could roll it out by late summer.