Getting around the city this weekend is going to be more challenging than usual with the Don Valley Parkway closed both ways between the Gardiner and the 401 from 11 o'clock tonight until 5 o'clock Monday morning.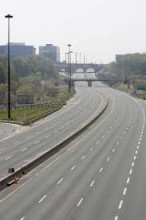 Toronto Transportation crews will be conducting their usual spring maintenance activities.  Alternatives are Victoria Park, Don Mills, and Bayview Avenue.
There are also disruptions coming to the subway system.
There will be no train service between Lawrence West and St. George on the left side of the Yonge – University Line both Saturday and Sunday.  Shuttle buses will run in place.  Subway service opens late, at 12 noon, on the Bloor – Danforth line between Pape and St. George Stations.
There will also be sporadic disruptions on the Union to Pearson Express throughout the weekend.