Jimmy Buffett says he will honour the two dates he has scheduled in North Carolina even though the state passed what he calls a "stupid law."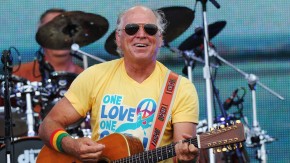 Jimmy Buffett writes on his website, that whether he will do future shows in North Carolina depends on whether the law is changed.
The legislation passed last month overrules LGBT anti-discrimination measures passed by local governments.
It also excludes sexual orientation and gender identity from the state's anti-discrimination policy.
Buffett says his fans bought tickets before the law was passed and he's not going to let "stupidity or bigotry" overrule fun with his fans. Bruce Springsteen and the E Street Band cancelled their show in Greensboro over the weekend because of the law. And Canada's Bryan Adams has cancelled a performance in Mississippi to protest that state's new law that allows religious groups and some private businesses to refuse service to gay couples