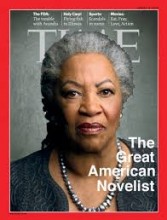 The 85-year-old author has won the lifetime achievement award from the New Hampshire-based MacDowell Artist Colony.
Morrison  joins past winners including Robert Frost, Aaron Copeland and Georgia O'Keeffe as the 57th recipient.
The MacDowell Artist Colony's mission is to nurture the arts by offering talented artists an environment where they can produce enduring works of the imagination.
Morrison will receive her award August 14th.