In a 38 second video, released to the media and party supporters, leader Tom Mulcair calls Donald Trump a "fascist."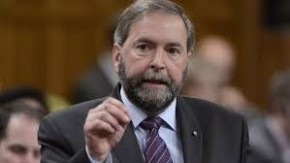 Mulcair says the definition fits because of Trump's proposal to ban Muslims from entering the United States and his plan to build a wall along the Mexican border.
Mulcair also used the video to call out Prime Minister Justin Trudeau for not speaking out about Trump.
Trudeau has said he has great faith in the American people and looks forward to working with whoever gets elected in November.  At a forum in March, Trudeau went on the record as saying he wasn't going to pick a fight with Trump but wasn't going to support him either.
Mulcair says if a fascist becomes president of the United States, he wants to be on record as having opposed it long before the American election this autumn.