A makeshift memorial has been created outside Rob Ford's home in Etobicoke.
Mourners have placed flowers, candles and notes of condolence.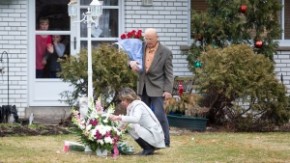 His late councillor's wife Renata was seen yesterday arranging some of the flowers, while his children through a window from inside.
A book of condolence has been set up at Toronto City Hall, where mourners lined up to sign it. You can also leave an online expression of condolence here.
The former controversial Toronto mayor died yesterday at Mount Sinai Hospital from a rare form of cancer at the age of 46.
The cancer that took the life of Rob Ford is among the rarest and most challenging to treat.
Known as a pleomorphic liposarcoma, Zoomer Radio's Doctor Zach Levine says "it belongs to a large group of malignancies called soft-tissue sarcomas, which arise in such tissues as muscle, tendons, blood vessels and fat as opposed to the type of cells…a carcinoma…which is the cause of most cancers like breast, colon (and) lung. Liposarcoma refers to it being fat cells primarily, and so it's a cancer that develops in fat cells, and pleomorphism refers to the fact that it's variable in size and shape and there's a lot of difference when you look at it under the microscope. There's a lot of different shapes and sizes and both of those things make it difficult to treat, it makes it quite an aggressive cancer that makes it difficult to cure, unfortunately."
Doctor Zach Levine says the treatments include what Rob Ford underwent; surgery, chemotherapy and radiation. But he says because it's a very aggressive cancer and tends to be advanced by the time its discovered, the survival rates tend to be pretty poor.
Funeral announcements have yet to be announced for Rob Ford.