Canada's average traffic congestion rate has dropped by nearly 2 % and Toronto's congestion is down by 3%.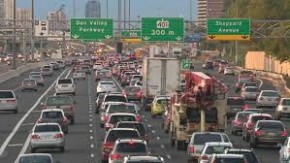 That was the positive news in the 2016 TomTom Traffic Index which was released this morning.
TomTom experts attribute Canada's improved congestion rates to new government-led traffic management policies and investments in infrastructure.
For Toronto specifically – traffic congestion is still the second-highest in the country at 28% – but the city seems to be better managing the problem with a 3% congestion reduction over the previous index.
This 3% congestion reduction means that Torontonians on average will spend 11 hours less sitting in traffic jams per year.