An 80 year old terminally ill Toronto man is going to court to ask a judge for a physician-assisted death.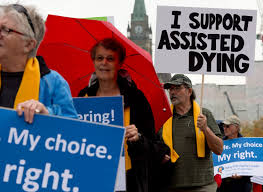 If allowed, it would be just the second known instance outside Quebec, where an application for an assisted death has been granted while the federal government rewrites the law that was struck down last year by the Supreme Court.
The applicant in this case is identified only as A.B. He's suffering from advanced-stage aggressive lymphoma and says he is in intolerable pain and distress than cannot be alleviated. His petition indicates he has the support of his family, physicians and a psychiatrist.
Last week a court in Calgary granted a constitutional exemption to an Alberta woman with ALS. She died with the help of doctors in British Columbia on Monday.