Best selling author John Grisham is giving away his latest work of fiction, a new novel called "The Tumor: A Non-Legal Thriller."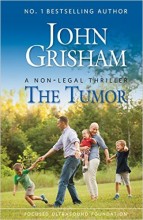 Grisham calls The Tumor the most important book he's ever written.  As the title suggests, the book isn't another one of the legal thrillers he's famous for.  Instead, this one focuses on medicine and how a new medical technology could revolutionize the future of medicine, by curing disease with sound.
The focus is on ultrasound which has the potential to treat brain tumours, Parkinson's, Alzheimer's, Hypertension and prostate, breast and pancreatic cancer.
The book is available at open culture.com and Amazon.