It is day two of Toronto's inside workers work-to-rule campaign and CUPE Local 79 President Tim Maguire says the job action will continue to build.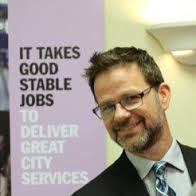 Maguire says the work-to-rule campaign is aimed at making the public aware that union workers often perform duties outside of their regular job descriptions.  And while he claims the work-to-rule campaign will not impact service delivery, his union members are no longer doing the extra work for free.
Members of CUPE Local 79 work in community housing, community centres, arenas, child-care centres, public health offices, long-term care facilities and municipal offices.